We Love Helping Customers Achieve Great Success With Great Designs and Prints

These are our services:


We work with you to assess where your marketing is at and how it could be improved. Helping you to develop a roadmap that provides the foundation and a strategic framework for your marketing efforts.
Wide format signs and banners help you stand out and create visual brand experiences. We'll help you with a wide range of platforms
Your business is a brand. The graphic design service offered by Patriot Precision Printing helps you build your brand and carry your identity throughout all of your collateral.
. Our team is available to consult with you on effective postal design, USPS specifications and regulations, and postal rate optimization.
Contact us!
It will only take a minute
Your Success is our Greatest Reward!
Economical Commercial & Government Printing
At Patriot Precision Printing we go the extra mile so you are thrilled with your order! We are more than a printer. We are an environmentally conscious printing company built as a solution for the impossible turnaround, the budget conscious startup, and the need for a company who takes a personal approach to quality, without compromise.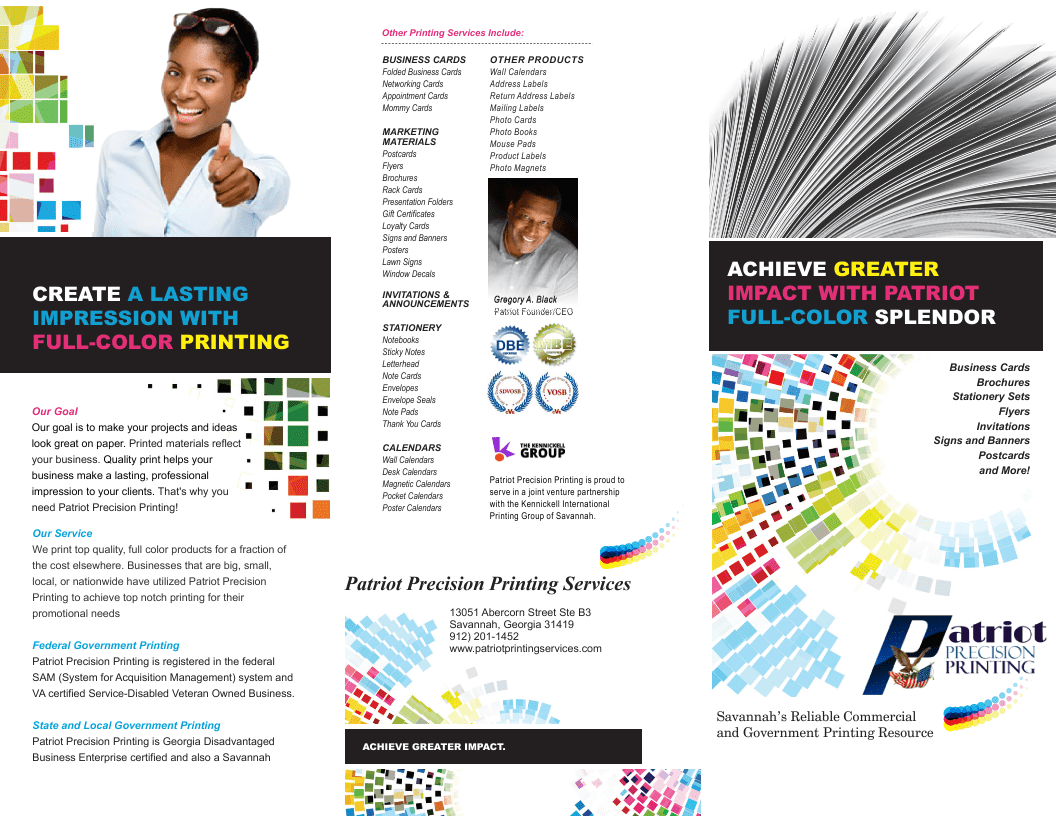 We Also Print for Government Agencies
OUR GOVERNMENT CONTRACTING INFO
DUNS: 10788109
CAGE Code: 8C3D1
VA VIP Service Disabled Veteran Owned SB verified thru 2023
SBA HUBZone Certified on 07/01/2021
GA GDOT Vendor Code 16434
Savannah SBE certification ID 201803-20-0124B
Primary NAICS CODE: 323111 Commercial printing
Secondary NAICS CODE: 541430 Graphic design services
Secondary NAICS CODE: 339950 Signs and banners

All Of Our Government, Commercial and Training Certifications
We're also Chatham County And Savannah L/DBE Certified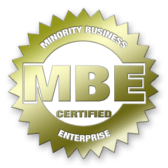 A Right Media Mix Can Make The Difference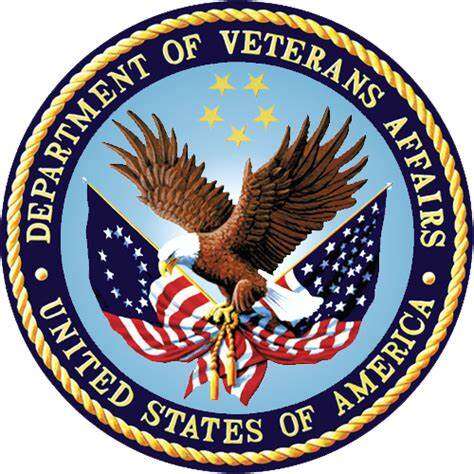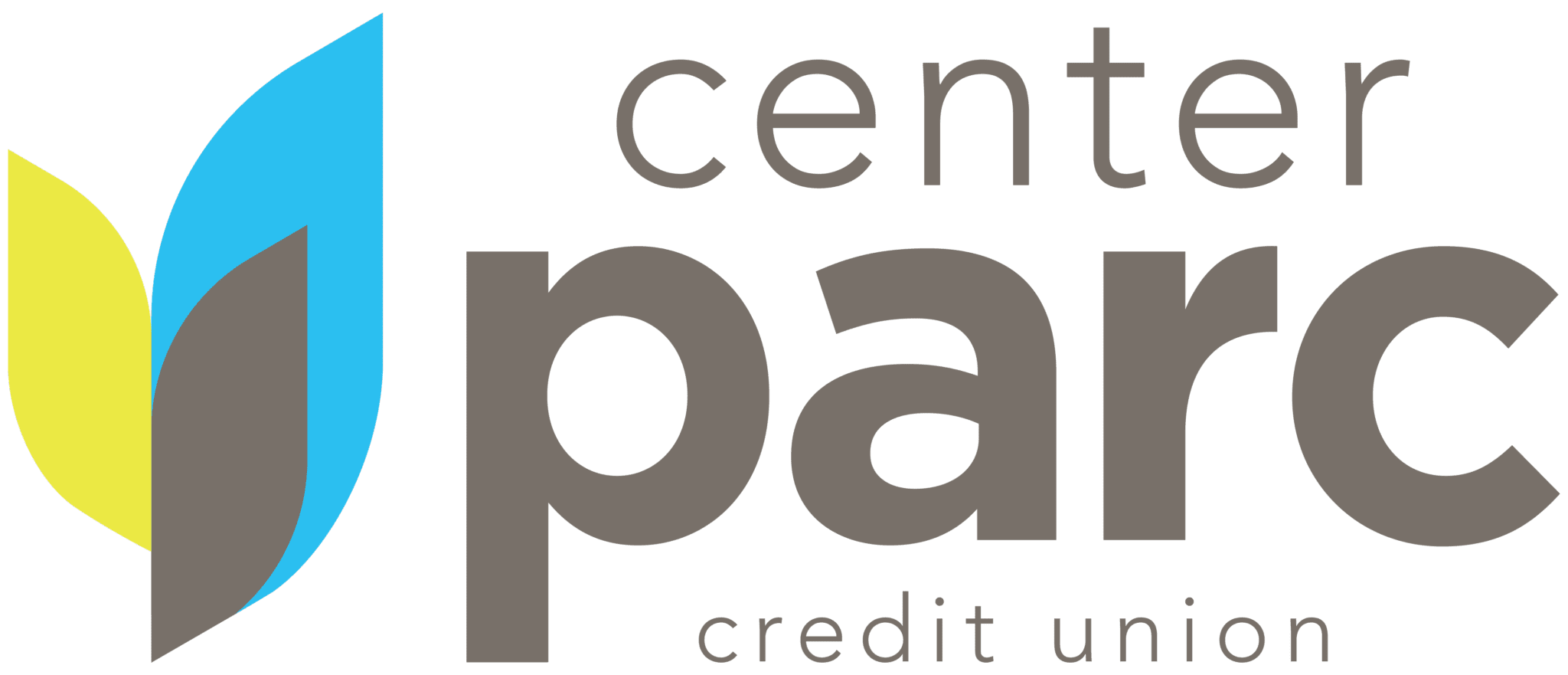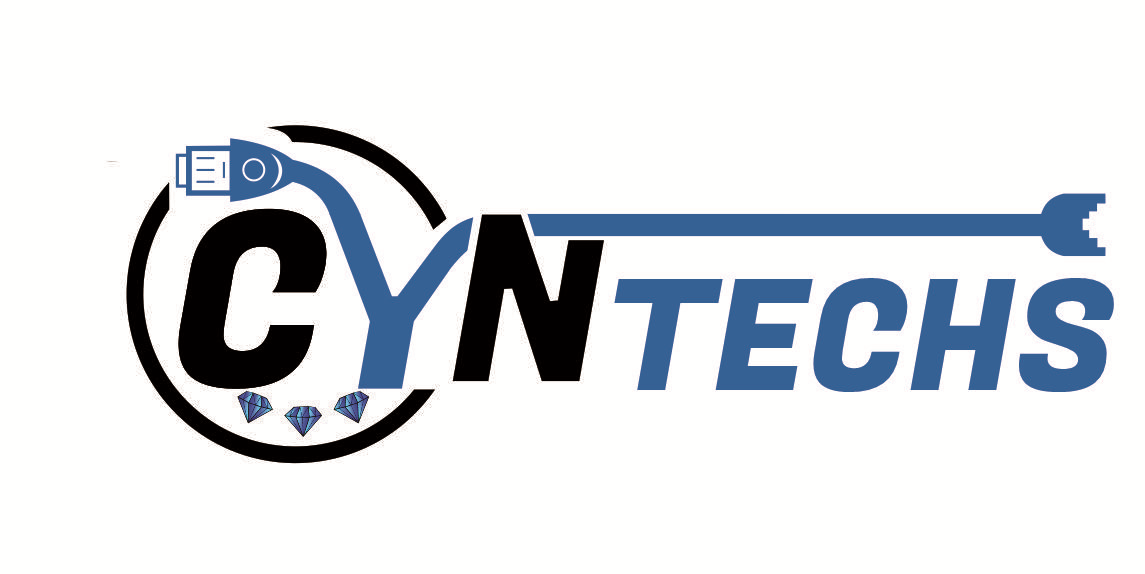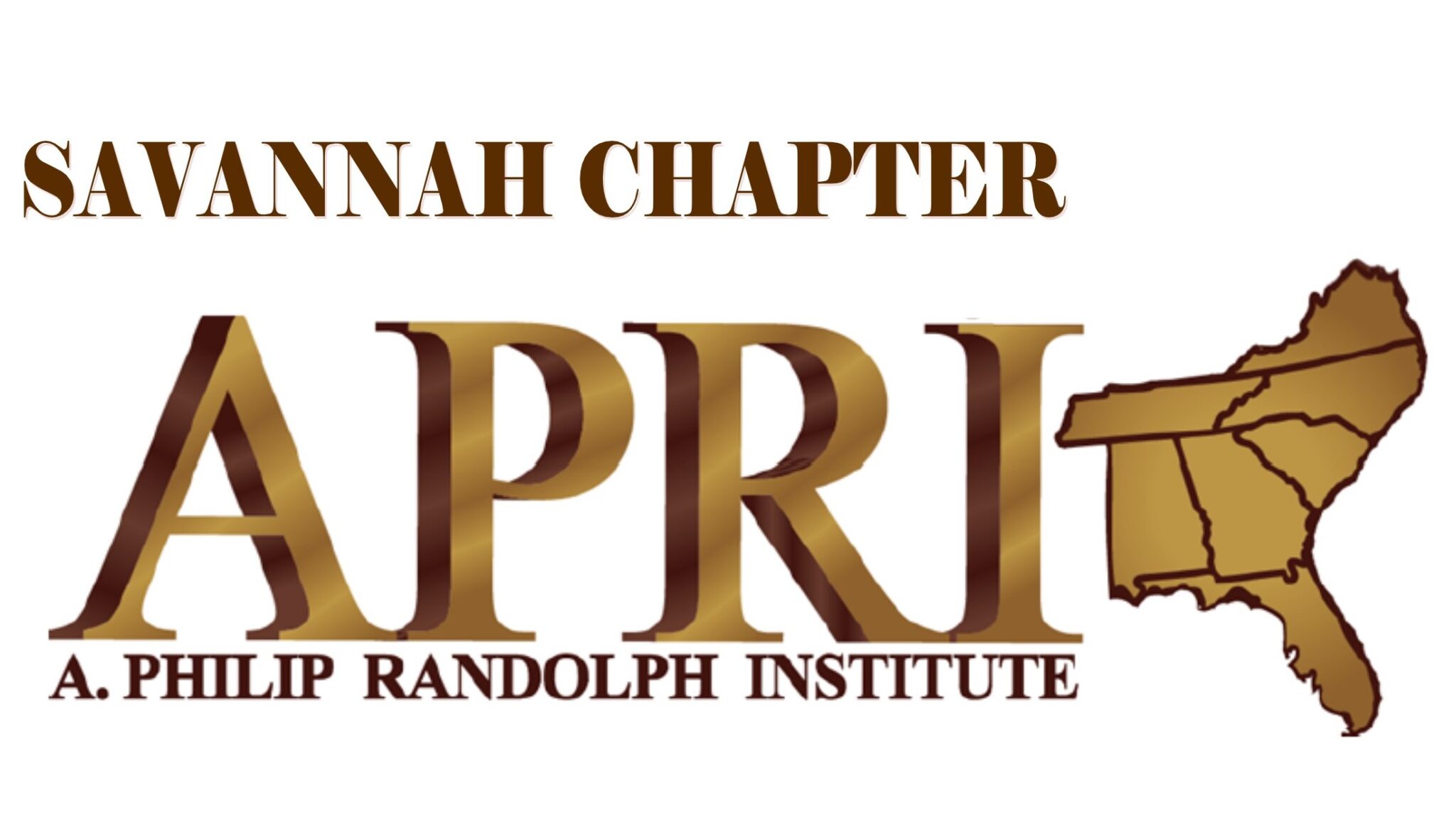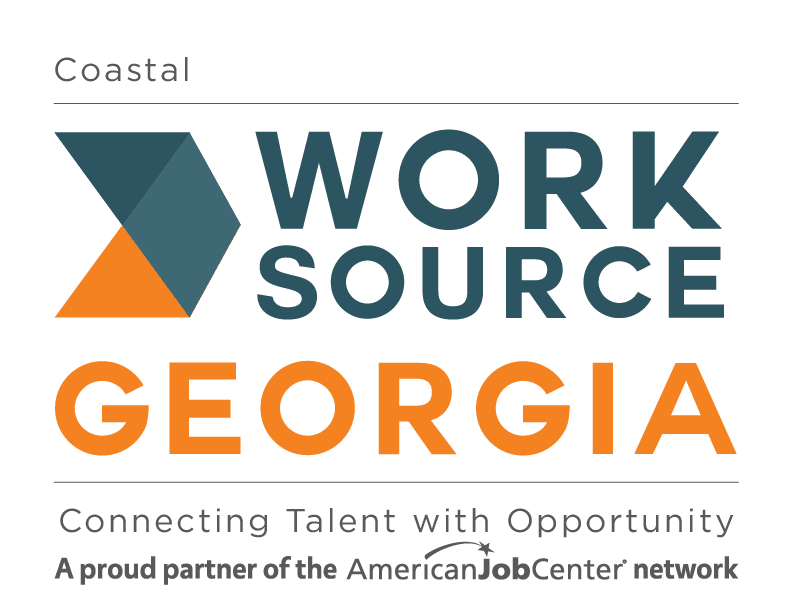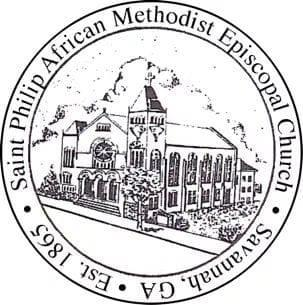 Savannah City Featured DBE
Patriot Precision Printing is currently featured on the City of Savannah website as highlighted Savannah Business Enterprise.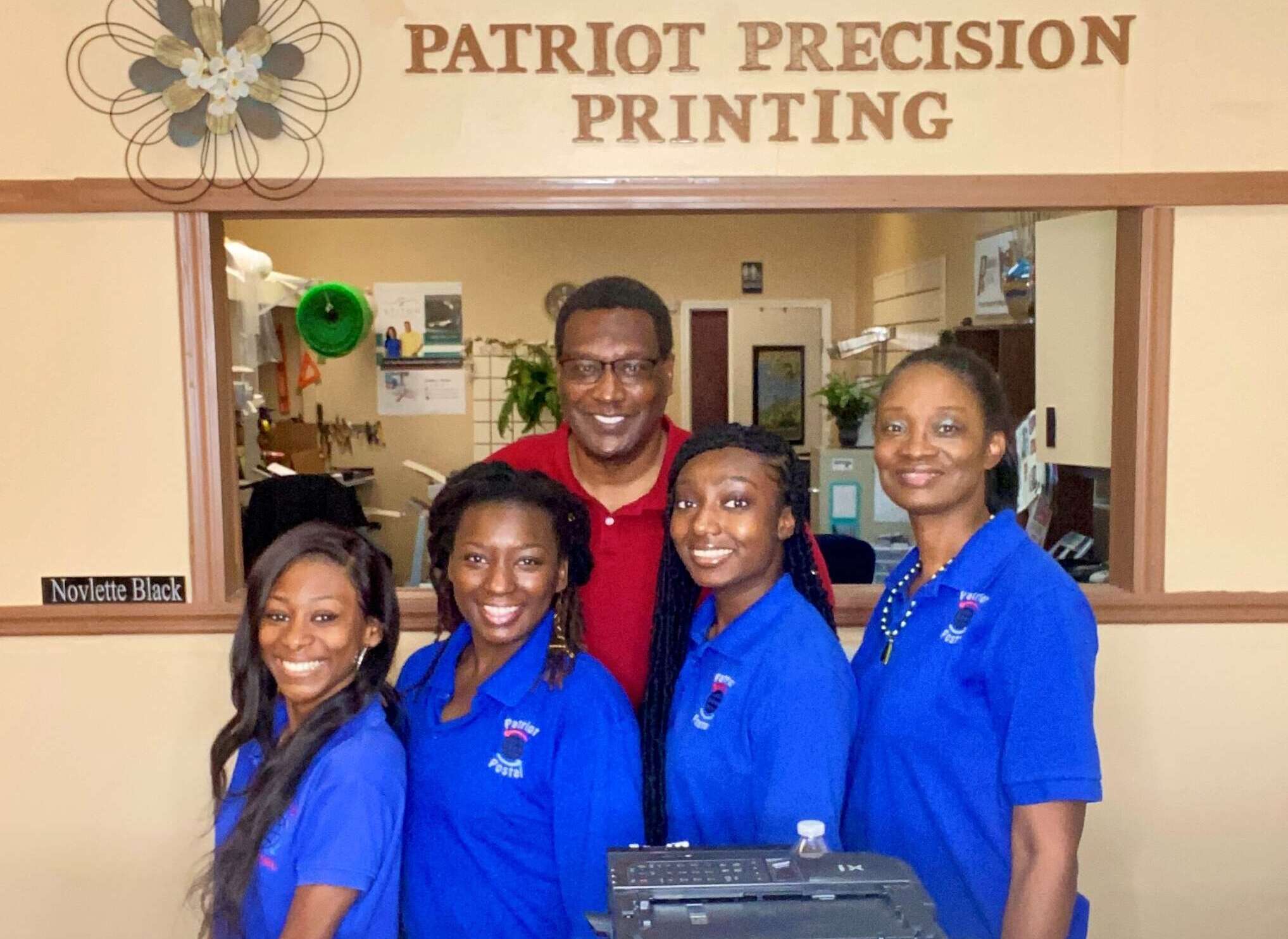 Savannah 100 Black Men
Association Business of the Month for January 2021
For it's support of the Savannah Communities and small businesses 100 Black Men Assoc. honors Patriot Precision Printing
Owner of Patriot Precision Printing Gregory Black talks about the history of the organization. He also discusses his experience with the SBA's All Small Mentor-Protégé Program.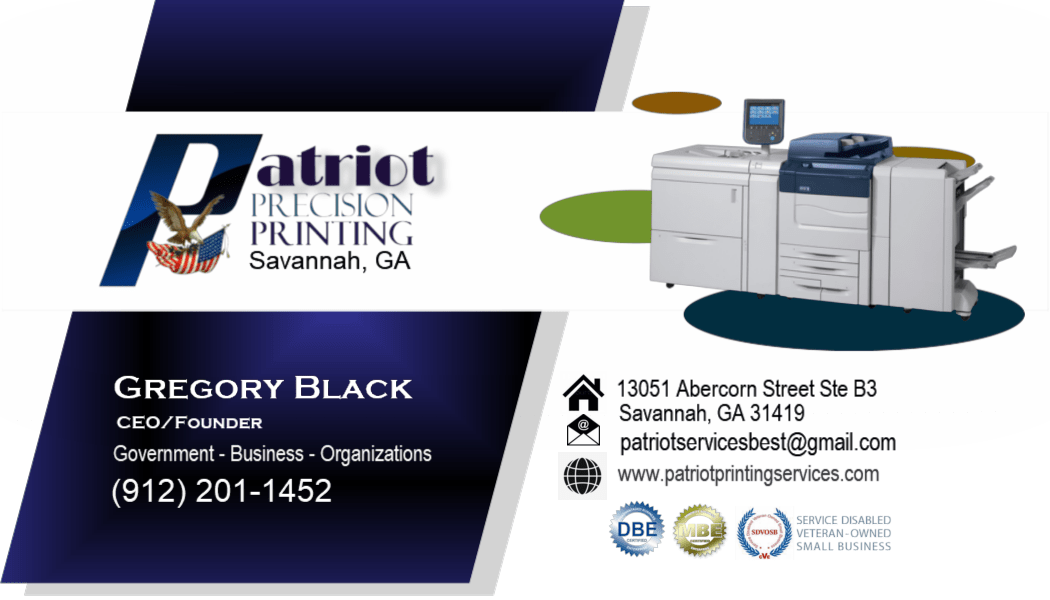 LOCATION AND HOURS
Address: 13051 Abercorn Street Suite B3
Savannah, Georgia 31419
Phone: (912) 201-1452 (O)
(270) 244-6056 (C)
Hours of Operation: 9am – 5 pm Mon-Fri.